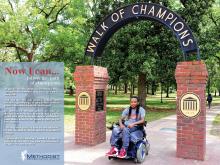 At age 17, Stevelyn Robinson of Winona, Miss., was paralyzed from the neck down in a school bus crash.
And just like the late Chucky Mullins—who became a quadriplegic as an Ole Miss football player— Robinson's motto is: Never quit!
He persevered through almost six years of therapy with Methodist Rehabilitation Center's spinal cord injury team. And now he's at Mullins' alma mater, enjoying his dream to earn an Ole Miss degree.
"My long-term goal is to have my own business," he said. Meanwhile, he has much to be proud of already.
"I was in the ICU thinking I wouldn't be able to move at all, and now I can walk with assistance," he said. "It's unbelievable."

 Download Poster