Proven Amputation Expertise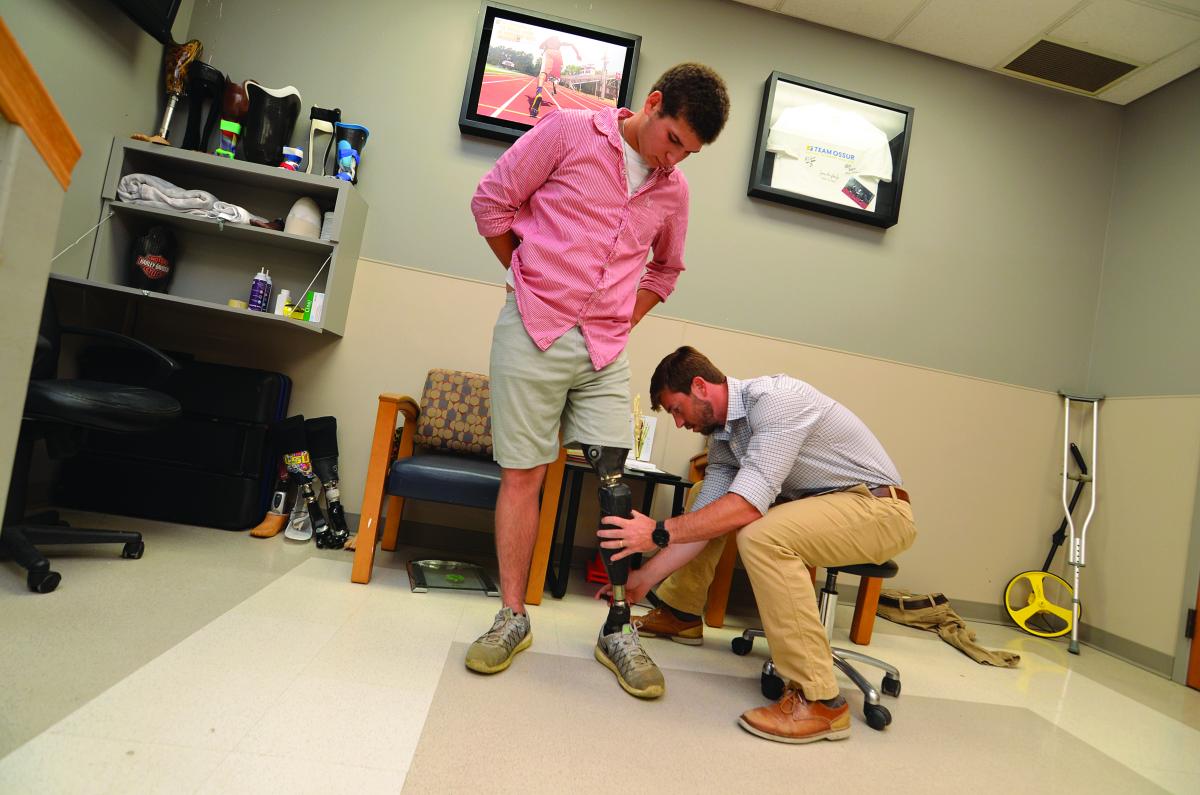 With more than 30 years of experience, Methodist Rehabilitation Center offers the most comprehensive amputation services in Mississippi.
We provide pre-surgical assessments, post-surgical therapy and custom-designed prostheses for patients recovering from amputations as a result of trauma or illness.
Our Patients
Through our inpatient program, we treat adolescents and adults. And through our outpatient Methodist Orthotics & Prosthetics division, we provide outpatient care for adult, adolescent and pediatric cases.
Our Team
A physical medicine and rehabilitation physician leads the comprehensive care for both the new amputee/individual living with limb loss, and the seasoned veteran facing either new issues or wanting to establish with a program with a full spectrum of available rehabilitation services. 
Our Program
Helping patients maintain their health and independence and avoid common amputation complications is at the heart of Methodist Rehab's amputation services.
We offer:
Daily wound monitoring/care
Pre-prosthetic gait training, when appropriate
Training for walking with assistive devices
Contracture prevention/education
Neuropathic pain education/desensitization
Upper body/core strengthening
Diabetic education (if needed)
Early inpatient evaluations by Methodist Orthotics & Prosthetics staff
Pain management
DVT screening
Post-operative compression garments
Custom-fitted prosthetic devices via Methodist Orthotics & Prosthetics
Body-weight supported treadmill training for prosthetic patients
Ongoing coordinated care via regularly scheduled outpatient amputee clinics
What Sets Us Apart
Comprehensive, Coordinated Care: Inpatient/outpatient collaborations between MRC physicians, therapists and orthotics and prosthetic staff ensure patients benefit from a comprehensive approach.
Advanced Technologies. Our unique blend of training and experience puts MRC in line to be among the first providers of advanced technologies such as powered and bionic systems. We also provide early product testing for major manufacturers, giving our patients access to products even before they reach the consumer market.
Motion Analysis and Human Performance Laboratory. We can conduct evaluations in Methodist Rehabilitation Center's Motion Analysis and Human Performance Laboratory — the only facility of its kind in Mississippi and one of only a handful in the Southeast.
Research. We recognize research is vital to the field of prosthetics and employ a researcher who also plays a role in patient care.
Warranties. We stand behind all our prosthetic products, providing warranties with replacement or repair guarantees on all sockets and other custom prosthetic devices we produce. We also honor all warranties on components manufactured by other suppliers.
Recreational and Athletic Opportunities. Patients with amputations are encouraged to take part in therapeutic recreation, and Methodist Orthotics & Prosthetics has even fielded a track team that helped at least one athlete win a silver medal in the 2012 London Paralympics.
Peer Support. Through MRC-sponsored support group meetings and the counsel of MRC staff who have also experienced limb loss, new amputees receive advice on how to adjust to their new reality.
Contact Us
Inpatient Amputation Care – 601-364-3477
Outpatient Amputation Care
Jackson, Mississippi Office 
One Layfair Dr., Suite 300, Jackson, MS 39232 | 601-936-8899 
Monroe, Louisiana Office 
1607 Louisville Ave., Monroe, LA 71201 | 318-410-0846
Hattiesburg, Mississippi Office 
107 Fairfield Drive, Suite 10, Hattiesburg, MS 39402 | 601-264-0359 
Meridian, Mississippi Office 
1600 14th Street, Meridian, MS 39301 | 601-483-5280
Cleveland, Mississippi Office 
804 First Street., Cleveland, MS 38732 | 662-846-6555
Oxford, Mississippi Office
1207 Office Park Drive, Suite A, Oxford, MS 38655 | 662-234-8193
Starkville, Mississippi Office
101 G.T. Thames Drive, Suite A, Starkville, MS 39759 | 662-615-6133
Biloxi, Mississippi Office
993 Tommy Munro Drive, Suite A, Biloxi, MS 39532 | 228-220-3050