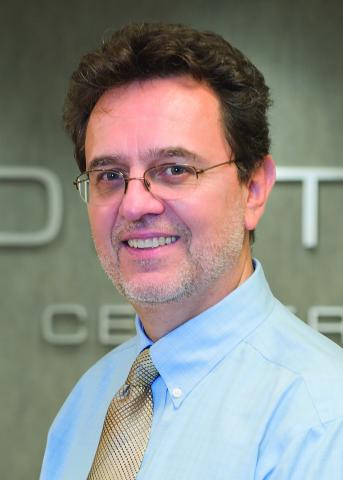 Dobrivoje S. Stokic, M.D., D.Sc.
Dr. Stokic is vice president of research and innovation, and a senior scientist for the Center for Neuroscience and Neurological Recovery at MRC. He is also an affiliate professor in the Department of Neurobiology and Anatomical Sciences at the University of Mississippi Medical Center (UMMC) and a member of the Internal Advisory Board of the Neuro Institute created through the affiliation agreement between MRC and UMMC to better align clinical, research, and educational missions of the two institutions.
He finished medical school (1987), completed a residency in Physical Medicine & Rehabilitation (1991), and earned a doctoral degree (2005) from the Faculty of Medicine, University of Belgrade, Serbia. From 1991 until 1997, he was a postdoctoral fellow and research associate in the Division of Restorative Neurology & Human Neurobiology at Baylor College of Medicine, Houston, TX. He joined MRC in 1997 to establish the research program that has been awarded more than $8M in external funding, and more than $9M by the donor-supported Wilson Research Foundation at MRC.    
His research interest is in the areas of translational neuroscience and laboratory evaluation of human spinal cord injury, brain injury, and stroke. He has published over 100 peer-reviewed manuscripts and several book chapters. Dr. Stokic regularly serves as a journal and grant reviewer and has received research funds from federal, state, industry and private sources. He has served on the Editorial Board of several peer-review journals (Muscle & Nerve, Frontiers in Neurology) and is currently Senior Editor for the International Journal of Rehabilitation Research. His scientific work led to new approaches for diagnosis and treatment of paralysis, spasticity (muscle stiffness), and gait after an injury to the brain and spinal cord and the introduction of robotic devices into physical and occupational therapy at MRC. Also, Dr. Stokic and Dr. Art Leis, a neurologist at MRC,  were the first to report that the West Nile virus attacks the spinal cord and causes long-lasting muscle paralysis, which prompted the CDC to recognize acute flaccid paralysis as a new diagnostic category.
Areas of Expertise:
Brain Injury
Neurological Disease
Spinal Cord Injury
Stroke