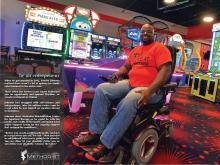 When he got married in 2012, Sancho Johnson realized there wasn't a lot of options for family entertainment in the metro area.
That's when the former Coast Guard lieutenant saw an opportunity and opened Playtime, an arcade/restaurant in Clinton.
Johnson had struggled with self-reliance and independence, after his military career came to a end when he was injured on vacation abroad in Dominica.
Johnson chose Methodist Rehabilitation Center for inpatient therapy so he could be with his family, and credits its therapists and Spinal Cord Injury Support Group for the ongoing support that restored his confidence.
"Before you can do anything physically, you have to accept where you are," he said. "Then you have to ask yourself what you're going to do about it. You can either let your disability define you, or you define your disability. I choose the latter."