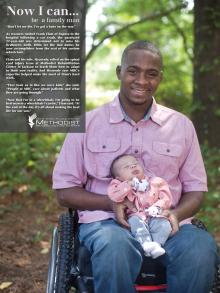 "Don't let me die. I've got a baby on the way."
As rescuers rushed Frank Elam of Eupora to the hospital following a car crash, the paralyzed 22-year-old was determined not to miss his firstborn's birth. Ditto for the dad duties he now accomplishes from the seat of his custom wheelchair.
Elam and his wife, Heavenly, relied on the spinal cord injury team at Methodist Rehabilitation Center in Jackson to teach them how to adapt to their new reality. And Heavenly says MRC's expertise helped make the most of Elam's hard work.
"They took us in like we were kids," she said. "People at MRC care about patients and what they are going through."
"Now that I'm in a wheelchair, I'm going to be best man in a wheelchair I can be," Elam said. "At the end of the day, it's all about making the best life for our son."