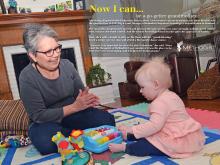 After being diagnosed with Parkinson's disease, Sheri Carter wanted a means to maintain her active lifestyle. And the quest led her to LSVT Big & Loud Therapy at Methodist Outpatient Neurological Rehabilitation in Flowood.
The innovative program uses speech and physical therapies to improve voice strength, walking speed, muscle tone, balance and trunk control. And the former Pearl High School teacher gives the approach an A-plus.
Now, she's agile enough to play on the floor with her "grand-blessing," teach a senior exercise class and attend a therapeutic dance course.
 "Exercise is so important for me to be able to function," she said. "Once I met the therapists at Methodist, I was convinced it was the place to be. They were very encouraging. And it helped me tremendously."

  Download Poster