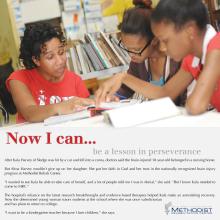 After Kala Harvey of Sledge was hit by a car and fell into a coma, doctors said the brain-injured 18-year-old belonged in a nursing home.
But Alma Harvey wouldn't give up on her daughter. She put her faith in God and her trust in the nationally recognized brain injury program at Methodist Rehab Center.
"I wanted to see Kala be able to take care of herself, and a lot of people told me I was in denial," she said. "But I knew Kala needed to come to MRC."
The hospital's reliance on the latest research breakthroughs and evidence-based therapies helped Kala make an astonishing recovery. Now the determined young woman tutors students at the school where she was once valedictorian and has plans to return to college.
"I want to be a kindergarten teacher because I love children," she says.

Download Poster