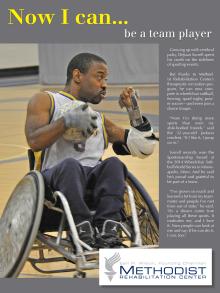 Growing up with cerebral palsy, DeJuan Surrell spent his youth on the sidelines of sporting events.
But thanks to Methodist Rehabilitation Center's therapeutic recreation program, he can now compete in wheelchair softball, fencing, quad rugby, power soccer—and even join a dance troupe.
"Now I'm doing more sports than even my able-bodied friends," said the 32-year-old Jackson resident. "If I like it, I jump on in."
Surrell recently won the Sportsmanship Award at the 2014 Wheelchair Softball World Series in Minneapolis, Minn. And he said he's proud and grateful to be part of a team.
"I've grown so much and learned a lot from my teammates and people I've met from out of state," he said. 'It's a dream come true playing all these sports. It motivates me, and I love it. Now people can look at me and say: If he can do it, I can, too."

Download Poster