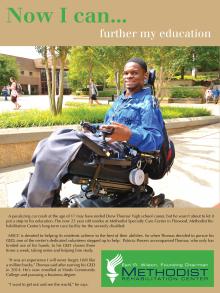 A paralyzing car crash at the age of 17 may have ended Drew Thomas' high school career, but he wasn't about to let it put a stop to his education. The now 22 year old resides at Methodist Specialty Care Center in Flowood, Methodist Rehabilitation Center's long-term care facility for the severely disabled.
MSCC is devoted to helping its residents achieve to the best of their abilities. So when Thomas decided to pursue his GED, one of the center's dedicated volunteers stepped up to help.  Patricia Powers accompanied Thomas, who only has limited use of his hands, to his GED classes three times a week, taking notes and helping him study.
"It was an experience I will never forget. I felt like a million bucks," Thomas said after earning his GED in 2014. He's now enrolled at Hinds Community College and pursuing a business degree.
"I want to get out and see the world," he says.

Download Poster