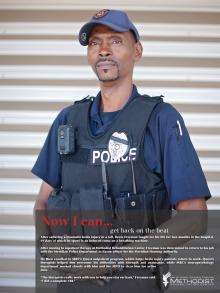 After suffering a traumatic brain injury in a fall, Devie Freeman fought for his life for two months in the hospital, 19 days of which he spent in an induced coma on a breathing machine.
After moving to inpatient therapy at Methodist Rehabilitation Center, Freeman was determined to return to his job with the Meridian Police Department as liason officer for the Meridian Housing Authority.
He then enrolled in MRC's Quest outpatient program, which helps brain injury patients return to work. Quest's therapists helped him overcome his difficulties with strength and endurance, while MRC's neuropsychology department worked closely with him and the MPD to clear him for active duty.
"The therapists really work with you to help you stay on track," Freeman said. "I did a complete 180."
He's now back to his old beat, keeping the citizens of Meridian safe.