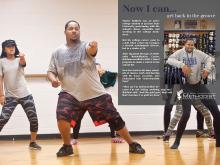 Martez Baldwin was an active college student at Jackson State University, performing with the school's dance ensemble and working in the college bookstore.
But his college career came to a halt when a flare-up of lupus, a chronic autoimmune disease, led to a stroke at 26.
After inpatient therapy at Methodist Rehabilitation Center, Baldwin enrolled in MRC's Quest program to make a return to his school life.
Now he's back to his busy schedule of classes, work and dancing with the dance ensemble, who nicknamed him "Indestructibly Paid."
"They say I'm indestructible because I'm not letting anything stop me," Baldwin said. "And the paid part, they said that's because I've paid my dues."