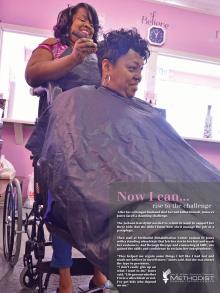 After her estranged husband shot her and killed himself, Jamecca Jones faced a daunting challenge.
The Jackson hairstylist needed to return to work to support her three kids. But she didn't know how she'd manage the job as a paraplegic.
Then staff at Methodist Rehabilitation Center custom fit Jones with a standing wheelchair that lets her rise to her feet and reach her customers. And through therapy and counseling at MRC, she gained the skills and confidence to reclaim her independence.
"They helped me regain some things I felt like I had lost and made me believe in myself more," Jones said. But she was always the type to persevere.
"I don't easily give up on what I want to do," Jones said. "Life goes on whether I'm in a wheelchair or not. I've got kids who depend on me."

 Download Poster