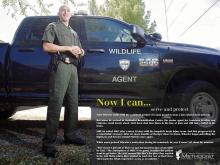 Tyler Wheeler walks with the confident posture of a man proud to wear a law enforcement uniform.
But when he arrived at Methodist Rehabilitation Center, the senior agent for Louisiana Wildlife and Fisheries could barely stand. He'd been shot four times in the line of duty and still had a bullet in his brain.
Still, he exited MRC after a mere 10 days with the hospital's brain injury team. And that progress led to a remarkable recovery. After six more months of therapy closer to home, Wheeler began patrolling the highways and byways around Monroe once again.
While many praised Wheeler's motivation during his comeback, he says it wasn't all about his mindset.
"The reason I got out of there so fast isn't just because of my will," he said. "The atmosphere at MRC is so good, it makes the patient want to get better. The staff seemed like that's the place they wanted to be, and that's where they wanted to work the rest of their lives. They made the rehab experience as fun as it could be."