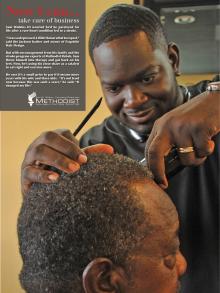 Sam Watkins III worried he'd be paralyzed for life after a rare heart condition led to a stroke.
"I was so depressed, I didn't know what to expect," said the Jackson barber and owner of Exquisite Hair Design.
But with encouragement from his family and the stroke program experts at Methodist Rehab, Sam threw himself into therapy and got back on his feet. Now, he's using his close shave as a catalyst to eat right and exercise more.
He says it's a small price to pay if it means more years with his wife and three kids.  "It's not hard now because this was such a scare," he said. "It changed my life."