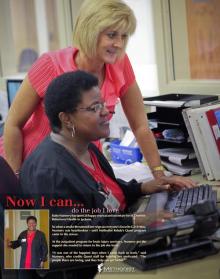 Ruby Nunnery has spent 28 happy years as unit secretary for St. Dominic Behavioral Health in Jackson.
So when a stroke threatened her reign as everyone's favorite Girl Friday, Nunnery was heartbroken – until Methodist Rehab's Quest program came to the rescue.
At the outpatient program for brain injury survivors, Nunnery got the support she needed to return to the job she loves.
"It was one of the happiest days when I came back to work," said Nunnery, who credits Quest staff for keeping her motivated. "The people there are loving, and they help you get better."

Download Poster