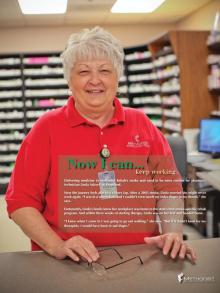 Delivering medicine to Methodist Rehab's stroke unit used to be mere routine for pharmacy technician Linda Adcock of Ridgeland.
Now the journey feels akin to a victory lap. After a 2003 stroke, Linda worried she might never work again. "I was in a wheelchair, and I couldn't even touch my index finger to my thumb," she says.
Fortunately, Linda's family knew her workplace was home to the state's best stroke-specific rehab program. And within three weeks of starting therapy, Linda was on her feet and headed home.
"I knew when I came in I was going to go out walking," she says. "But if it hadn't been for my therapists, I would have been in sad shape."

 Download Poster