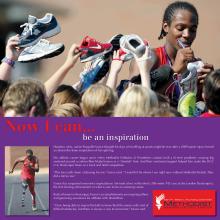 Houston, Miss. native Shaquille Vance thought his days of excelling at sports might be over after a 2009 sports injury forced an above-the-knee amputation of his right leg.
His athletic career began anew when Methodist Orthotics & Prosthetics custom built a hi-tech prosthetic running leg centered around a carbon-fiber blade known as a "cheetah" foot. And their continued support helped him make the 2012 U.S. Paralympic Team as a track and field competitior.
"This has really been a blessing for me," Vance said. "I wouldn't be where I am right now without Methodist Rehab. They did a lot for me."
Vance has surpassed everyone's expectations. He took silver in the Men's 200-meter T42 race at the London Paralympics, the first shining achievement in what is sure to be an amazing career.
Back at home in Mississippi, Vance's accomplishments are inspiring others and garnering awareness for athletes with disabilities.
"I love being able to inspire the kids to know that life comes with a lot of difficult obstacles, but there is always a way to overcome," Vance said.

Download Poster