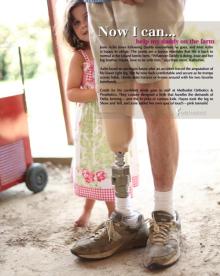 Josie Azlin loves following Daddy everywhere he goes, and Matt Azlin is happy to oblige. The jaunts are a joyous reminder that life is back to normal at the Leland family farm. "Whatever Daddy is doing, Josie and her big brother, Hayes, love to be with him," says their mom, Katherine.
 
Azlin faced an uncertain future after an accident forced the amputation of his lower right leg. But he now feels comfortable and secure as he tromps across fields, climbs onto tractors or horses around with his two favorite farmhands.
 
Credit for his confident stride goes to staff at Methodist Orthotics & Prosthetics. They custom designed a limb that handles the demands of Delta farming – and the hijinks of curious kids. Hayes took the leg to Show-and-Tell, and Josie added her own special touch – pink toenails!

Download Poster