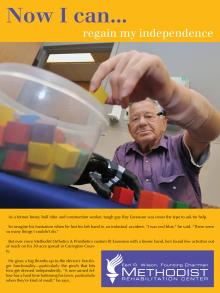 As a former boxer, bull rider and construction worker, tough guy Roy Eavenson was never the type to ask for help.
So imagine his frustration when he lost his left hand in an industrial accident. "I was real blue," he said. "There were so many things I couldn't do."
But ever since Methodist Orthotics & Prosthetics custom-fit Eavenson with a bionic hand, he's found few activities out of reach on his 30-acre spread in Covington County.
He gives a big thumbs-up to the device's five-finger functionality—particularly the pinch that lets him get dressed independently. "A one-armed fellow has a hard time buttoning his Levis, particularly when they're kind of small," he says.

Download Poster