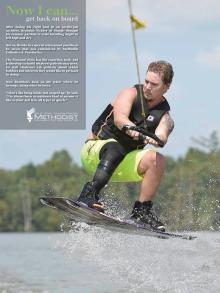 After losing his right foot in an on-the-job accident, Brandon Vickers of Sturgis thought his summer pastime of wake boarding might be left high and dry.
Not so, thanks to a special waterproof prosthesis he wears that was customized by Methodist Orthotics & Prosthetics.
The Flowood clinic has the expertise, tools and technology to build whatever patients may need. So staff clinicians ask patients about which hobbies and interests they would like to get back to doing.
Now Brandon's back on the water where he belongs, doing what he loves.
"I don't like being inside just cooped up," he said. "I've always been an outdoors kind of person—I like to hunt and fish, all types of sports."