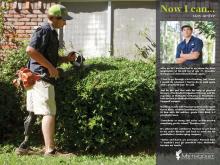 After an ATV accident led to an above-the-knee amputation of his left leg at age 17, Chandler Norman was determined to walk again.
"I had to go through a lot of healing, but I knew I would do whatever I had to do to walk again with a prosthetic leg," he said.
And he did just that with the help of physical therapy at Methodist Outpatient Therapy and the expertise of Methodist Orthotics & Prosthetics, both located at Methodist Rehabilitation Center's Flowood campus.
Working closely with Norman's physical therapist Karen Klein, certified prosthetist Taylor Hankins fit him with the military grade Otto Bock X-3 prosthetic knee.
"Somebody as young and active as him needed something pretty robust," Hankins said.
It's allowed the outdoorsy Norman to get back to his active lifestyle and back to work for his grandfather's landscaping company.
"Taylor and Karen are awesome," Norman said. "I wouldn't ever go anywhere else. Methodist became my family."