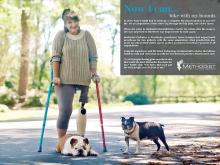 In 2015, Nancy Smith had to undergo a complete hip disarticulation to save her life. It's an amputation of the entire leg through the hip joint, one of the rarest.
When she came to Methodist Rehabilitation Center for rehab after the surgery, she was surprised to find there was hope for her to walk again.
Methodist Orthotics & Prosthetics prosthetist Taylor Hankins had helped build prostheses for two patients with the same amputation. Most prosthetists may never see one in their entire career, as they account for less than 1 percent of all amputations.
Using his experience and the latest technology, Hankins built a device that allows Smith to walk and even keep up with her two beloved pooches, Rowdy and Crash.
"I can't imagine having gone anywhere else that could do what Methodist has done for me," Smith said. "I'm lucky that God put the best people ever in front of me."