About the Foundation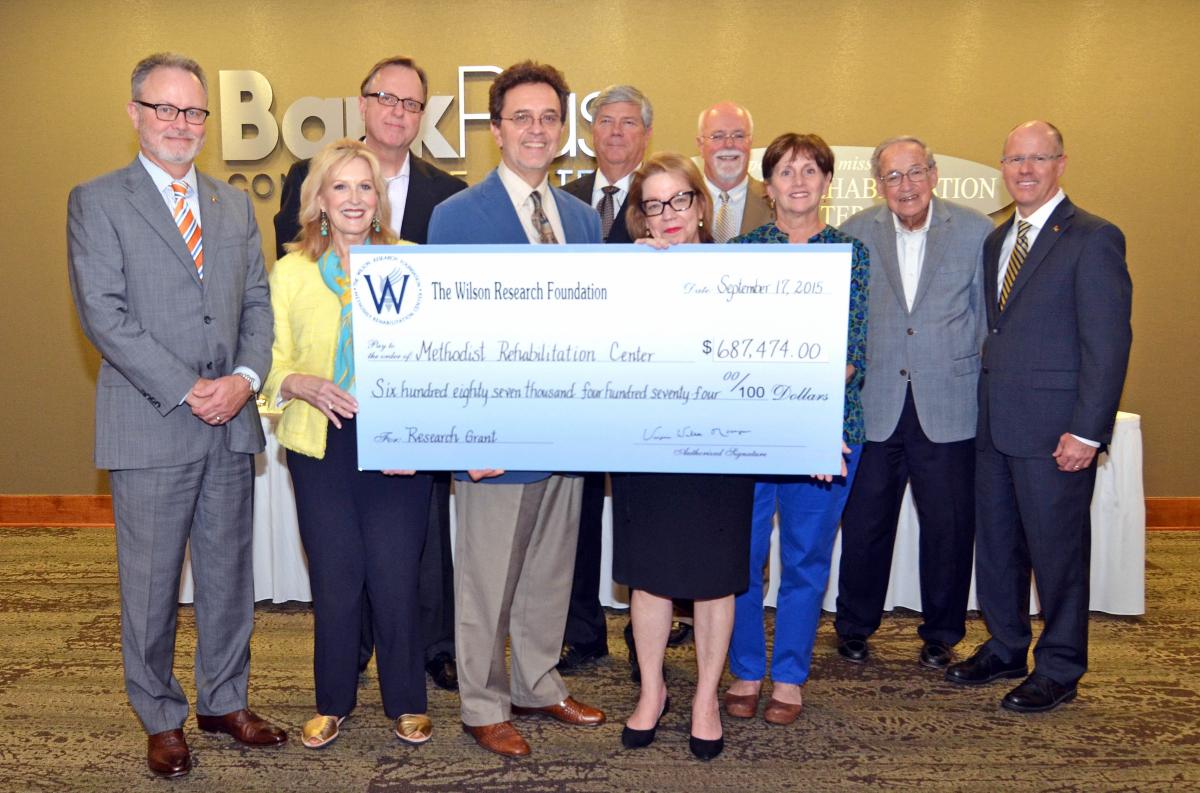 The Wilson Research Foundation was established in 1989 with a seed gift by the H.F. McCarty Jr. Family. The Foundation is a 501(3)(c) charity and serves as MRC's fundraising arm. Mr. McCarty asked that the Foundation be named to honor Earl R. Wilson, founding chairman of MRC, and his wife Martha, for their tireless work helping Mississippians overcome disabling obstacles.  
Our Mission
From the very beginning, the Foundation's focus has been to build a research and education program establishing Methodist as a rehabilitation center of excellence. The very best hospitals are research centers, At Methodist, clinicians and researches work side by side to move discoveries quickly into clinical practice. Therapists learn advanced techniques and patients benefit directly from access to the research labs. And this is at no cost to the patients. The impact is local and global, with more than 320 clinical (human) research studies in publication. Learn more about our research here.
The Foundation hopes to raise a minimum of $1 Million annually 2021-2023 to meet the center's research and education needs. Your gifts will support our talented team of problem-solving investigators and help us purchase groundbreaking technology. Most of all, your gifts are an investment in the patients at MRC -- everyday Mississippians who are able to get back to their lives with your help.   
The Walk & Roll for Research is a low-impact (1-2 mile) annual benefit for the Foundation that celebrates the abilities and mobility gained by patients. Visit our Walk website here.
Gift Acceptance: The Foundation officers serve as the Gift Acceptance Committee, reserving the right to decline a gift not consistent with our mission or values, those that have potential liabilities, or those that would be too difficult or time consuming to manage/divest.    
Giving Levels
| | |
| --- | --- |
| Visionaries | $500,000 + |
| Pillars | $200,000 - $499,999 |
| Pioneers | $85,000 - $199,999 |
| Sustainers | $25,000 - $84,999 |
| Partners | $5,000 - $24,999 |
| Fellows | $1,000 - $4,999 |
| Friends | Up to $1,000 |
Leadership
The Wilson Research Foundation is led by a Board of Governors appointed by the MRC Trustees:
Virginia Wilson Mounger (chair)*
Sam Lane (vice chair and fundraising chair)*
Dave Robinson (secretary)
Gene Delcomyn (treasurer)
Chris Blount (executive director/ex officio)
Kelley Walton Fenelon
Mary Helen McCarty Griffis
Matthew Holleman III*
Katy Houston
Tish Hughes*
Lyn McMillin
Cy Rosenblatt
Robert Smith, MD
Marion Wofford, MD
*Indicates concurrent members of the MRC Board of Trustees
Wilson Research Foundation
Chris Blount, Executive Director
Office: (601) 364-3598
Mailing Address:
1350 E. Woodrow Wilson Ave
Jackson, MS 39216